415 West Main Street, Fort Kent, Maine 04743
Ancient Free and Accepted Masons
What is Freemasonry

Freemasonry is the World's oldest, largest and most widely known fraternal organization. It is a voluntary organization of men of good character and reputation who believe in a Supreme Being, universal brotherhood and loyalty to their Country. Freemasonry's purpose is to help build a better world by teaching and promoting the brotherhood of man under the fatherhood of God. Among its' tenets are friendship, morality, brotherhood, patriotism, tolerance, relief of the distressed, the Golden Rule and charity toward all.



​

​​Upcoming Meetings & Events
​​​
​

​Lodge meetings at Fort Kent #209 are on the second Thursday of Each Month.
Stated Meetings

01/014/2016
02/11/16​
03/10/2016
04/14/2016
05/12/2016
06/09/2016

July closed
August Closed
09/08/2016
10/13/2016
11/10/2016
12/08/2016
​​​​​​​

​​

District #1 Stated Meetings
Trinity-Presque Isle 1st Tuesday
​Caribou 1st Thursday
​Aroostook 2nd Monday
Limestone 2nd Tuesday
​Monument-Houlton 2nd Wednesday
​Pioneer-Ashland 2nd Wednesday
​Washburn 2nd Thursday

Lodge is accepting Dues Payments:
415 West Main Street, Fort Kent, ME 04743
MASONIC QUOTE:
"If a man empties his purse into his head, no man can take it away from him. An investment in knowledge always pays the best interest."
— Benjamin Franklin, American writer, humorist, ambassador, inventor and Freemason

"Happiness lies in the joy of achievement and the thrill of creative effort."
— Franklin D. Roosevelt, American President and Freemason

Our Lodge building - February 2012
Fort Kent Masonic Lodge #209
Ancient Free & Accepted Masons
Dedication and Cornerstone Ceremony of our new Lodge
Building
Our Mailing Address:
415 West Main Street
Fort Kent Maine 04743












​​​​​​​​​​


​​Dean of Student Life and Development for the University of Maine at Fort Kent, Ray Phinney, who is also a Mason, explained why the group chose to support Bikes for Books. "Bikes are the most universal thing, which makes us believe every kid could enjoy this program. Bikes are something which encourage activity, but at the same time- every kid remembers their first bike. You remember going out and doing those things, so it's to encourage kids not only to read but to be outside and be active and to enjoy nature," he said. Phinney explained the educational perspective behind the Masons' decision to select students in fourth grade to participate in the program.
"As a group we determined that fourth grade was the grade to target because fourth grade is what really sets students up for middle school, and in middle school they start making those choices of what they want to do in life. We felt fourth grade was a key year."

The Fort Kent Masons have been contributing to local causes since the turn of the 20th century. "Part of being a Mason is to give back to your community, so this is one of the ways we're choosing to give back to our community," Stevens said.

Phinney said the Masons chose to support young people in their latest charitable endeavor because "we area is one of the strengths of the community, and we want to make sure to support those young people and let them know that learning is fun."

Students who choose to participate in the Bikes for Books programs can fill out a form for each book they read for the duration of the contest, which will include the name of the book, the name of the book's author, and a paragraph in the students' own words summarizing what each book was about. Each form will be entered into a drawing for a Huffy bicycle geared toward male and female winners in each school. The schools will draw winning book forms randomly and announce the winners before school lets out this summer.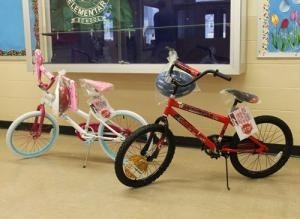 2015 - ST. JOHN VALLEY – The Fort Kent Freemasons [Fort Kent Masonic Lodge #209] are sponsoring a Bikes for Books initiative, offering fourth grade boys and girls in six Valley elementary schools the opportunity to win Huffy bicycles.
Two new bikes greet children at Fort Kent Elementary School each morning. All the kids have to do is read books.
Students from Fort Kent Elementary School (FKES),
Wallagrass Elementary School (WES), Eagle Lake Elementary School (ELES), St. Francis Elementary School (SFES), Dr. Levesque Elementary School (DLES), and Madawaska Elementary School (MES) are eligible to take part in the book reading challenge